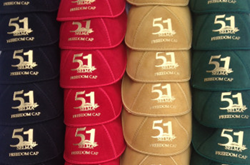 Co-Branded Freedom Caps
Muslim, Christian and Jewish constituents weeding out hate with you at campaign rallies.
Springfield, IL January 13, 2018
On January 12th, 2018, NBC News reported "President Donald Trump referred to Haiti and African nations as "sh*thole countries" during a meeting with a bipartisan group of senators at the White House."
The campaign concept consists of transforming the traditional benediction prayer into an outdoor group weed-pull event. WeedOutHate relates the pain and suffering that the Freedom Riders crossing over the Edmund Petus Bridge in Selma, Alabama as they experienced bloody Sunday. Traditional side-by-side photo ops with the candidates would be supplemented by photographed group weed-pulls could be conducted in front of the press. This would serve to get the conversation going for extending the concept into schools, religious institutions and community gardens. To these ends, candidates could cover the cost of the seeds for the school and the schools could use their peace gardens to teach the principles of social inclusion. Former US Ambassador to Germany, Phillip Murphy, successfully tested this concept with 100 German and immigrant high school students in Berlin.
The concept of candidates distributing Freedom Caps is not new. During the 2016 political cycle, Marc Daniels gained national attention once he was able to predict that Trump would win the election simply because the Trump skull caps outsold Hillary's and Bernie's.
The advantage of handing out Jewish Swag is that the candidates can extend their reach into Synagogues, Temples, Weddings, Bar Mitzah and of course Jewish congresses. Along the same lines, the Freedom Caps distributed at local campaign rallies would serve to promote the candidate at the 2018 Selma bridge crossing. Here is a summary of important events.
Important Venues: Plan Rally 7-10 days before events
Selma Bridge Crossing – March1st -6th
AIPAC Policy Conference March 26th-28th Washington D.C.
Pesach March 30th-April 7th
National Weed Out Hate Day April 3rd 2018
Last, not least, Daimyo Jackson, a renowned, European Michael Jackson double, has collaborated with WeedOutHate.org to produce licesenced campaign music that candidates can acquire. Interested candidates can contact WeedOutHate at [email protected] to discuss your WeedOutHate campaign needs.
Powered by WPeMatico