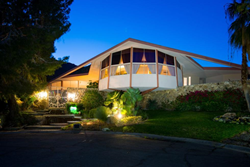 In 1967, Elvis and Priscilla Presley honeymooned at the House of Tomorrow in Palm Springs.
The best-selling Christmas album in U.S. history is "Elvis' Christmas Album" released by Presley in 1957.
POMPANO BEACH, Fla. December 08, 2017
"Elvis Presley's Honeymoon House of Tomorrow"
Elvis Presley could afford to lease or buy just about any house he wanted in any location that appealed to him. Elvis was a money machine at the box office and the music charts and a Christmas fixture through his television appearances, concerts and recordings. The best-selling Christmas album in U.S. history is "Elvis' Christmas Album" released by Presley in 1957 that spent four weeks on top of the Billboard charts. His second Christmas-themed album "Elvis Sings the Wonderful World of Christmas" was released in 1971.
After Elvis proposed to Priscilla Wagner just before Christmas in 1966, they were married a few months later at the Aladdin Hotel in Las Vegas. Elvis leased the House of Tomorrow in Palm Springs as their honeymoon house on a one-year lease and their child, Lisa Marie, was born exactly nine months later.
The Palm Springs home was designed by modernist architect William Krisel and featured in a 1962 "Look" magazine article as the "House of Tomorrow," an example of the coming of age of modern architecture. The design is created out of four circular living areas on three levels with a curved wall of peanut-brittle stonework, a round kitchen island and a round free-standing fireplace in the middle of the circular living room. In addition to the five bedrooms and five baths, the open-concept living and dining rooms and bar are sized for entertaining and the kitchen includes a breakfast bar.
Futuristic even for today, the mid-century modern house-in-the-round has walls of glass overlooking a secluded pool terrace and views of the Santa Rosa Mountains and the Coachella Valley. The 5,000-square-foot house has five bedrooms and five baths and comes with 1.16 acres of land with private garden, tennis court and orchard in addition to the swimming pool. It is now for sale at $5.9 million. The listing agent is Mary Kay Nibley of Rodeo Realty in Beverly Hills.
"Judy Garland's Malibu Beach House"
A few years after rocketing to fame in her most famous role as Dorothy in "The Wizard of Oz" and introducing one of the world's favorite Christmas songs "Have Yourself a Merry Little Christmas" in the 1944 MGM musical "Meet Me in St. Louis," Judy Garland bought a Malibu beach house – a retreat where she could relax to the repetitive soft sounds of the surf and bask in the sunshine.
Throughout her life, Judy suffered from depression and was treated with a plethora of prescription drugs, which many believed were the reason for her early death. The beach house was a valuable escape in so many ways for Judy. Seventy years later and after undergoing a massive renovation in 2013, the 1,728-square-foot house on the sand is for sale at $3.695 million.
Judy's former home includes three bedrooms, three baths and 10-foot high accordion doors that open to the wraparound deck. The kitchen has Viking appliances and granite countertops and the second floor master has vaulted ceilings and a private deck. The property is co-listed by Russell Grether and Tony Mark of Compass Realty in Malibu.
Real estate is never boring at TopTenRealEstateDeals. Check out today's most entertaining and unusual real estate news stories of the week. News such as Matt Lauer's Vast Real Estate Collection, Springsteen's Jersey House For Sale and Rand Paul's House Wars.
Powered by WPeMatico