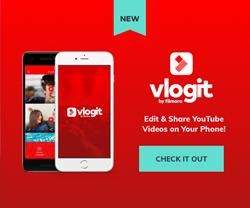 Vlogit Video Editing App
"We built Vlogit with YouTubers and vloggers in mind. A lot of them vlog using their phones and share with their viewers almost every day. Vlogit not only lets them edit their videos on their phones but also makes it easy to add branding elements, such as logos, intros, and even video thumbnails."
VANCOUVER, B.C. January 12, 2018
Filmora Video Editor, an easy-to-use and powerful video editing software, has launched Vlogit video editor for Android and iOS. The Vlogit App is completely free and packed with features that will help YouTubers create engaging video content – just in time to kickstart video production in 2018!
Download Vlogit for free here: https://filmora.wondershare.com/vlogit-video-editing-app/
"We built Vlogit with YouTubers and vloggers in mind. A lot of them vlog using their phones and share with their viewers almost every day." said Cole Vineyard, Director of Product Management and Marketing at Filmora. "Vlogit not only lets them edit their videos on their phones but also makes it easy to add branding elements, such as logos, intros, and even video thumbnails. With Vlogit, creators on the go can create finished videos and post them directly to YouTube."
With Vlogit, creators can make and share YouTube videos with their phones in 4 steps:
1. Import video clips and photos
Shoot videos with Vlogit or import existing videos and photos for editing. In addition to importing from users' library, Vlogit allows them to import photos and videos directly from social media accounts such as Facebook, Instagram and Google.
2. Add animated intros
Select a preset intro, or make your own intro. Vlogit offers 10 customizable intros and countdowns to help creators start their videos off right.
3. Jazz up the video with text, stickers, music, and effects
Vlogit offers a huge library of animated text, fun stickers, beautiful filters, royalty free music, and sound effects. Creators can also record voiceovers and make advanced edits such as adding 'Picture in Picture' effects to their videos.
4. Make a thumbnail and publish!
When creators finish editing, they can make a YouTube video thumbnail with Vlogit. It's as easy as choosing a still image from the video, or taking a new picture, and then adding text and graphics. The video can then be either saved, or posted directly to YouTube or Instagram in 1080p.
Learn more about Vlogit here: https://filmora.wondershare.com/vlogit-video-editing-app/
According to Google, almost 5 billion videos are watched on YouTube every day. It is not difficult to foresee that the future of video consumption will be mostly online, and demands for engaging video content will continue to increase. Creators are expected to upload captivating video content more frequently to keep their viewers engaged. With Vlogit, creators can create videos more efficiently and save time transferring videos and photos between editing apps, mobile devices, and computers.
About Filmora: Filmora is committed to taking storytelling to the next level by providing a suite of video editing programs and resources for creators of all skill levels. Rebranded and relaunched by Wondershare Technology Co., Ltd in 2014, Filmora has over 50 million happy users around the world. Filmora's product lineup includes: Filmora Video Editor, Filmora Scrn, Effects Store, FilmoraGo, Vlogit and filmora.io. Information about Filmora can be found here: http://filmora.wondershare.com
Powered by WPeMatico