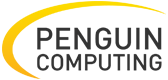 DENVER November 14, 2017
Penguin Computing, provider of high performance computing, enterprise data center and cloud solutions, has been recognized for its Penguin Computing® On-Demand™ (POD) HPC cloud as Best HPC in the Cloud Platform. POD HPC cloud was named among the annual HPCwire Readers' and Editors' Choice Awards presented at the 2017 International Conference for High Performance Computing, Networking, Storage and Analysis (SC17).
"We greatly appreciate this award, particularly since it comes from a combination of industry peers and the editorial leadership at HPCwire," said Tom Coull, President and CEO, Penguin Computing. "It's also a testament to the Penguin Computing team for its pursuit of innovation. POD HPC cloud is experiencing rapid growth, including the just announced addition of 11,500 cores of the latest Intel® Xeon® Scalable processor Skylake-SP."
POD HPC cloud offers organizations a flexible, cost effective approach to meeting simulation and modeling requirements. Customers may wish to run simulations at scale or many different permutations simultaneously, but may require more computing resources than are readily available in-house.
The coveted annual HPCwire Readers' and Editors' Choice Awards are determined through a nomination and voting process with the global HPCwire community, and selections from the HPCwire editors. The awards are an annual feature of the publication and constitute prestigious recognition from the HPC community. These awards are revealed each year to kick off the annual supercomputing conference, which showcases high performance computing, networking, storage and data analysis.
"From innovative industry leaders to the end consumer, the HPCwire readership reaches and engages every aspect of the high performance computing community," said Tom Tabor, CEO of Tabor Communications, publisher of HPCwire. "There is undeniable community support signified in receiving this award, not only from the entire HPC space, but also the amplitude of industries it serves. We proudly recognize these efforts and achievements and gladly allow the voices of our readers to be heard. Our sincere congratulations to all of the winners."
The winners were revealed at the HPCwire booth during the conference. More information on these awards can be found at the HPCwire website http://www.hpcwire.com or on Twitter by the hashtag: #HPCwireAwards.
About HPCwire
HPCwire is the #1 news and information resource covering the fastest computers in the world and the people who run them. With a legacy dating back to 1986, HPCwire has enjoyed a legacy of world-class editorial and journalism, making it the news source of choice selected by science, technology and business professionals interested in high performance and data-intensive computing. Visit HPCwire at http://www.hpcwire.com.
About Penguin Computing
Penguin Computing is one of the largest private suppliers of enterprise and high-performance computing solutions in North America and has built and operates the leading specialized public HPC cloud service, Penguin Computing On-Demand (POD). Penguin Computing pioneers the design, engineering, integration and delivery of solutions that are based on open architectures and comprise non-proprietary components from a variety of vendors. Penguin Computing is also one of a limited number of authorized Open Compute Project (OCP) solution providers leveraging this Facebook-led initiative to bring the most efficient open data center solutions to a broader market, and has announced the Tundra product line which applies the benefits of OCP to high performance computing. Penguin Computing has systems installed with more than 2,500 customers in 40 countries across eight major vertical markets. Visit http://www.penguincomputing.com to learn more about the company and follow @PenguinHPC on Twitter.
Penguin Computing, Scyld ClusterWare, Scyld Insight, Scyld Cloud Workstation, Scyld Cloud Manager, Relion, Altus, Penguin Computing On-Demand, Tundra, Arctica and FrostByte are trademarks or registered trademarks of Penguin Computing, Inc.
Contact:
Phillip Bergman
Viewstream
845-728-3984
pbergman(at)viewstream(dot)com
Powered by WPeMatico