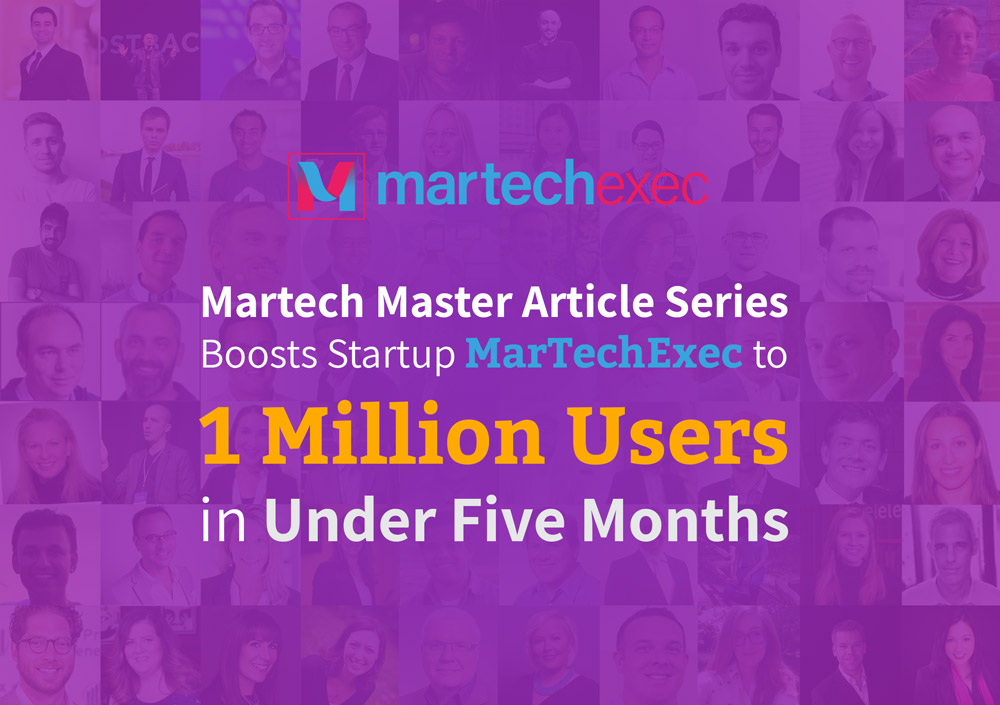 Austin, TX — (ReleaseWire) — 11/15/2017 –MarTechExec, a bootstrapped startup located in Austin, Texas overcame adversity by reaching over 1 million users in less than 5 months.
Promising to be a place where marketers could learn from "peers that have been there, done that," MarTechExec.com, at launch, already strutted over 5,000 marketing technology solution listings and 1,200 articles — all focused around topics related to the marketing technology landscape.
But traction was cited as the main reason given to MarTechExec when the startup was denied an opportunity to move past the application process with the local angel investor community.
"We realized out of the gate, especially without angel funding, that we would really need to roll up our sleeves and provide even greater value in order to gain traction," explains Lana K. Moore, Founder and CEO of MarTechExec. "So we went old-school with a Web 2.0 principle: we harnessed the collective intelligence of the marketing community with our Martech Master Series."
The Martech Master Series combines well-researched articles on topics with industry expert and practitioner opinions on trends and how emerging technologies will impact marketing and the technology that drives marketing.
"MarTechExec has created this unique win-win-win situation," expressed Megan Lueders, VP of Marketing at Zenoss. Lueders described how the series has already proven value to readers and contributors alike, while also positioning MarTechExec as a trustworthy and credible source. "I'm not surprised at all that they've reached 1 million users in such a short amount of time."
The first 10 of 60 topics in the Martech Master Series were developed in collaboration with 225 industry experts and practitioners covering artificial intelligence (AI), account-based marketing (ABM), affiliate marketing (for brands), audience data, content management systems (CMS), content marketing, ecommerce marketing, programmatic advertising, mobile marketing, predictive analytics and native advertising.
"We are definitely excited about the success of this program," exclaimed Moore. "Not only are we realizing our vision of becoming a place where people can learn, share and discuss marketing technology with peers, we're also exhibiting some serious traction."
To become a contributor or to participate in the Martech Master Articles series, contact MarTechExec.
About MarTechExec
MarTechExec is an Angie's-List-meets-Reddit online community where marketing professionals rate and review vendors, upvote member-fueled discussions, and learn about the latest strategies, tools, and tactics from their peers. With over 5,000 solutions in the marketing technology landscape, the mission for this Austin-based, bootstrapped startup is to help marketing executives, and their teams, stay on top of their martech game.
For more information, please visit us at martechexec.com and find us on:
Twitter: @martechexec
Instagram: @martechexec
Facebook: @martechexecs
LinkedIn: Lana K. Moore
Powered by WPeMatico